Hello Stampers
August is a very special month for a couple of reasons.
A new and fun stamp set and bundle are available to purchase. It has so many fun stamps and framelits and already on Pinterest are lots of creative ideas to use them. - The Thoughtful Branches Bundle.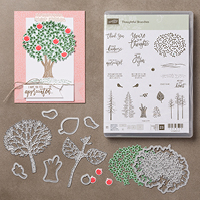 I have used it in a couple of different ways. Firstly, for these generic cards I made for a local gift/clothing store in my area
and then using the negative of one of these trees to make this card -
2.
Secondly, if you have earned any Bonus Day Coupons in July you can redeem them now to buy this new stamp set even cheaper!!! Just pop on over to my store and shop away :)
Now up to Pages 5 and 6 of my Holiday Album
-
As you can see on Page 5 I have not finished my journalling but I plan to come back to that a little later on and finish it off. Another great thing you can do with Project Life as I just pop that square card out of its pouch and write some detail and pop it back in. So, so easy.
Now off to do a couple more pages of my album :)