Hello there Stampers
Well my competition closed at the end of May and there were no entries this time so there will be another opportunity to grab those "give-away" freebies later in the year.
My new Catalogue Launch held on Saturday the 28th May was a ton of fun. Everyone got to see and touch and feel some of the new fun things now available in this beautiful catalogue and they liked what they saw, touched and felt :) :) :) Thank you Kay, Karen, Wil, Val and Trish and thank you Sonia for opening your home for us all :)
The Swirly Bird Bundle has been super popular and I am loving it more and more every day.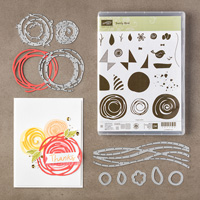 We all made a card using this bundle at the Launch and there were lots of "ooohs! and ahhhs!" It was a very simple design but very effective and the greeting is from the "Circle of Spring" stamp set.
Of course there were quite a few little left over Blushing Bride Glimmer Paper bits which I simply cannot just throw away.
This is what I salvaged as I was sure I could do something with them :)
So here is card # 1 using another favourite - "Timeless Textures" for the border look and a colour combo of Blushing Bride, Tip Top Taupe and Mint Macaron. Can you see which left over I used here?
Card # 2 - once again using "Timeless Textures" and the greeting from the "Birthday Blooms" set. The DSP (Timeless Elegance) is a retired one that I really love and am quite sad that it has gone but will continue to love using it while it lasts. Can you see the leftover piece that I used here???
Card # 3 - the last 2 left over pieces are here. It is hard to see in the pic but I stamped the larger swirly bird flower on crumb cake and popped the glimmer paper swirl on top. I also had a play with one of the new Hostess stamp sets - "Love you Lots" using the cute little lady bugs. The DSP is the new Affectionately Yours Specialty DSP in the new 2016/2017 Catalogue. The cardstock used is Crumb Cake and Night of Navy.
I hope you have all got your hands on the new Catalogue now and checking out all the fabulous design ideas and fun products you can play with : ) If you haven't and you live in Australia just email me here and I will get one to you.
Happy stamping and Catalogue drooling!
Janette